Structure with a Linen Feel in Hasta's New Curtain Collection
Hasta's new curtain collection features several exciting fabrics in subtly white and light beige shades that easily complement the rest of the home decor. The common thread in this collection have been structured fabrics with a linen feel. The curtains are available in both standard sizes as well as custom-tailored to specific window measurements.
Choose from ready-made sizes in standard or extra tall and wide curtains. Standard sized curtains come with an overlock seam and can be hung as they are. You can also choose to adjust the height of the curtains by hemming them at home. Our custom-made curtains are delivered pre-hemmed and tailored to your unique measurements.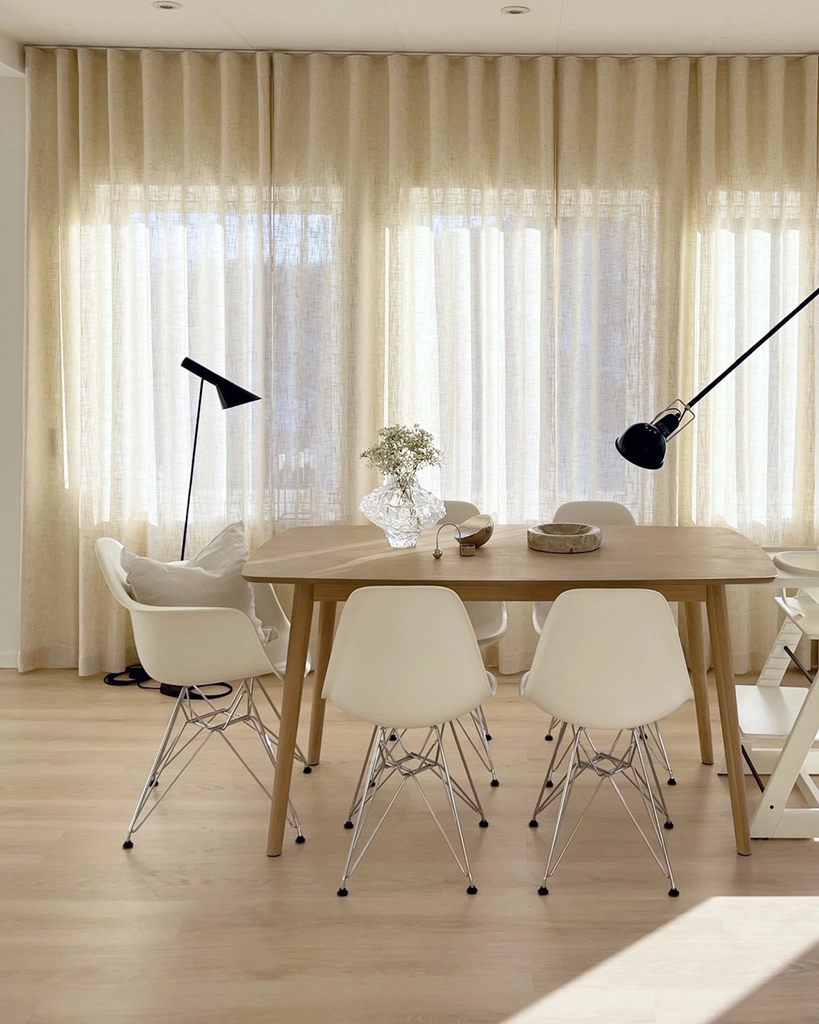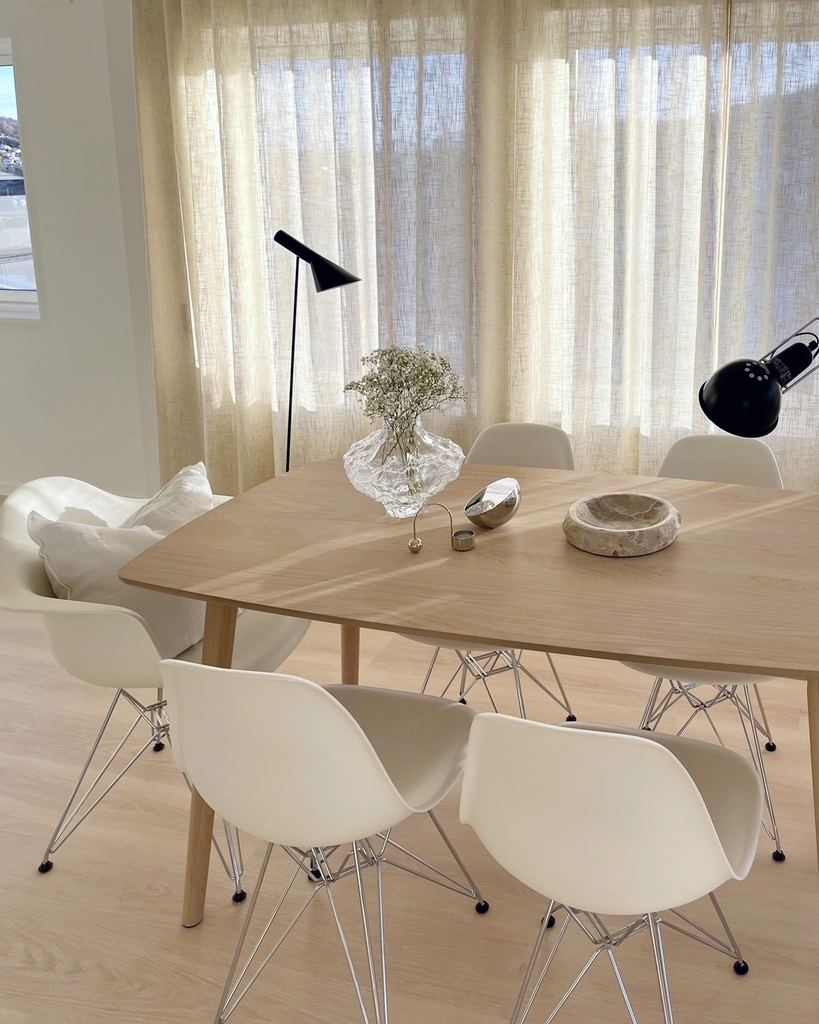 Alma

A Delightful Dream in Beige
Alma is a sheer curtain with a textured weave in a lovely linen feel. The shade is a very light tone of beige, making Alma a perfect choice when you want a curtain in a warmer hue than white, yet still want light colours. The intriguing texture of the fabric is beautifully accentuated when the sun's rays filter through the material, filling the room with natural light.
Alma pairs nicely with our newcomer Mylla, which has a thicker fabric, both in terms of colour and texture, for a luxurious hotel feel. However, it is equally suitable to stand out as the main curtain in setups with layered curtains.
132×250 cm
268×280 cm
Made-to-measure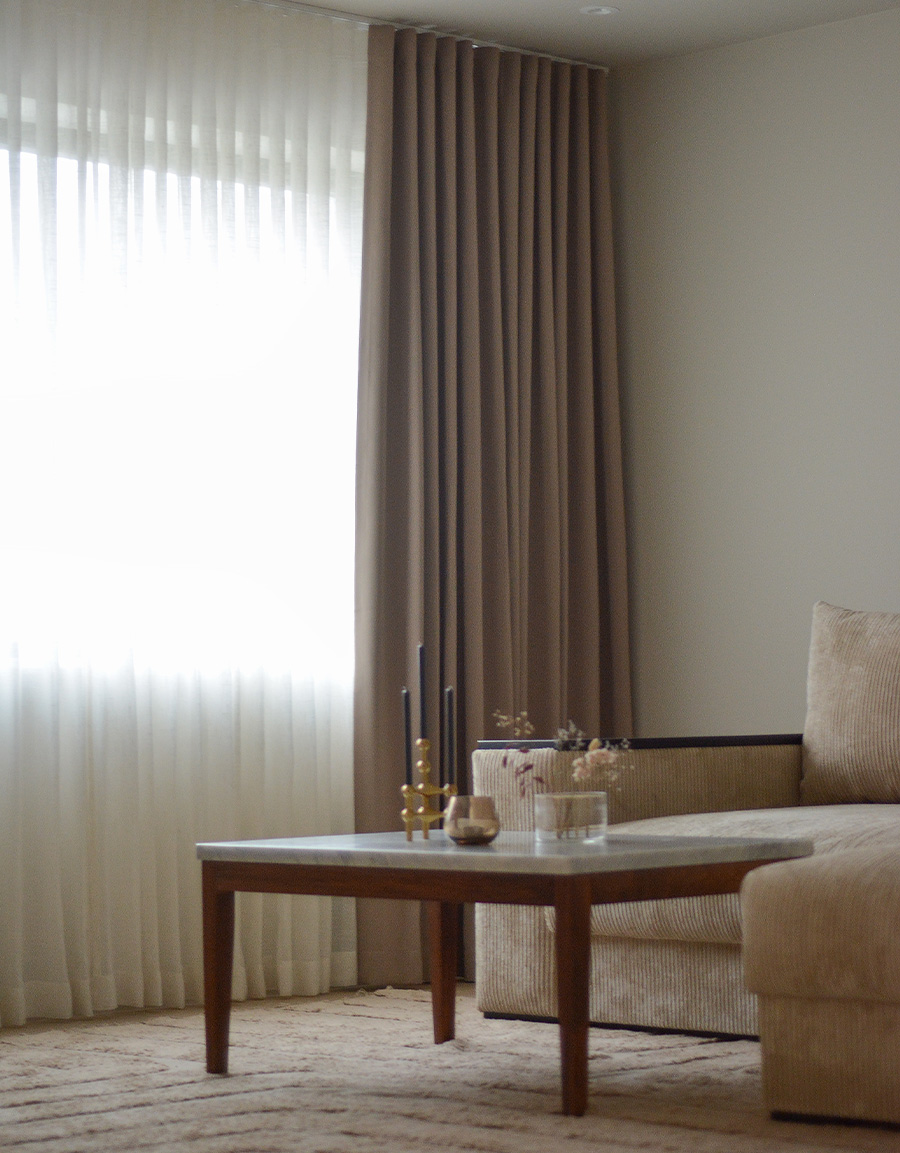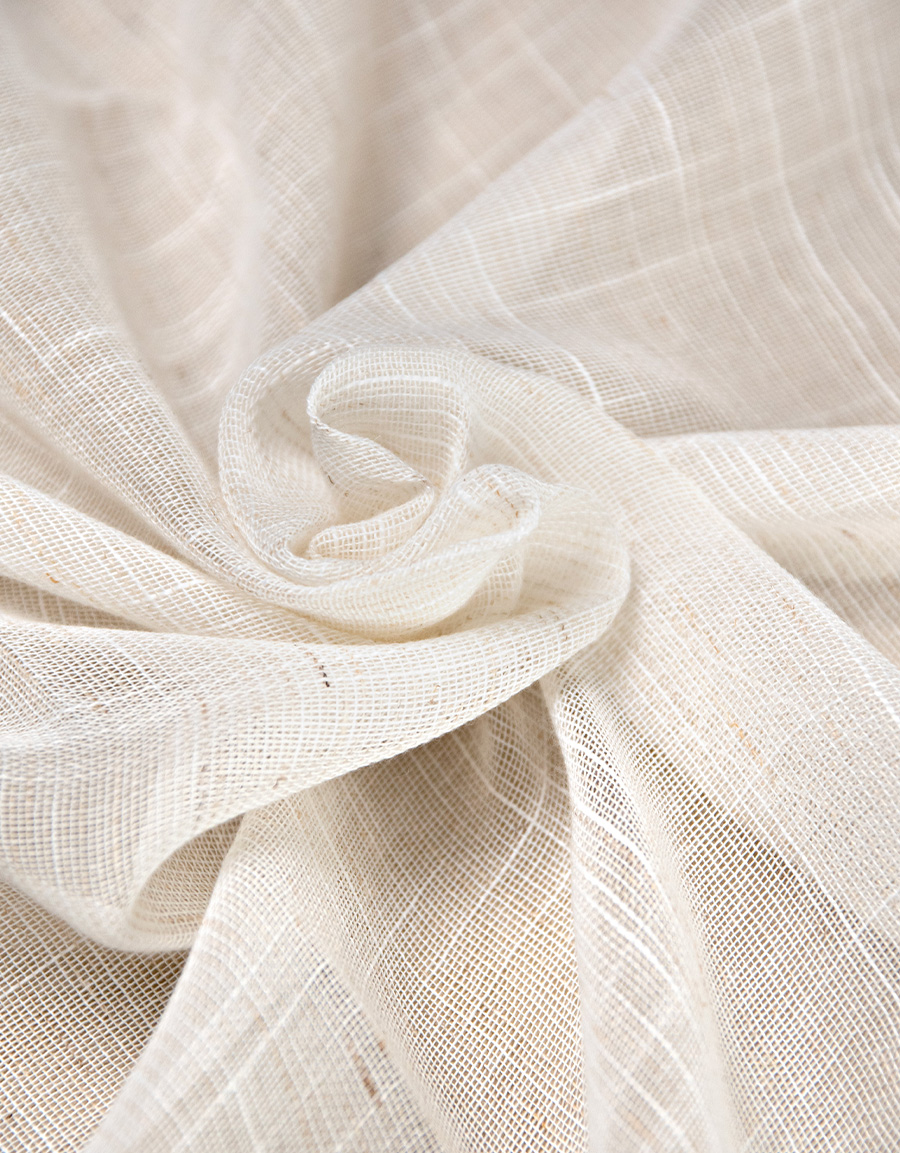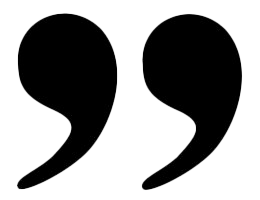 Hasta's new curtain collection has been developed as a complement to our existing curtain range, where the exciting structural patterns and the light beige shades make our selection feel more complete. Neutral tones continue to be in demand among our customers, and curtains in beige shades are something we know our customers desire a wider variety of.

– Alice Newzella, Brand Experience Manager, Hasta Home

Mylla
Rustic and Rural Feel with a Linen Texture
The fabric in the newcomer Mylla has a rustic linen feel in a neutral light beige shade, giving the home a natural, airy ambiance. Mylla is a thicker model curtain that works beautifully with the thinner Alma for a trendy hotel setup. The thicker fabric provides privacy without blocking out the natural light, making Mylla the perfect curtain for all rooms in the home. The linen texture is as chic as it is trendy, fitting just as well in the elegance of a minimalist home as it does in a rustic, cozy one.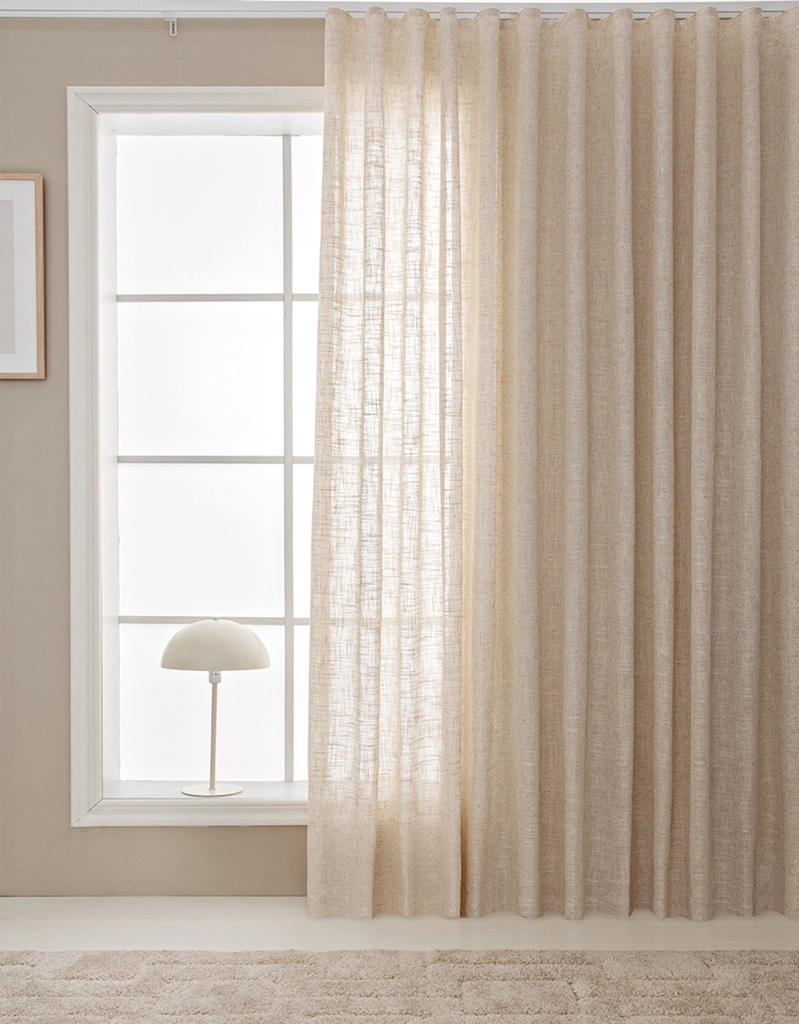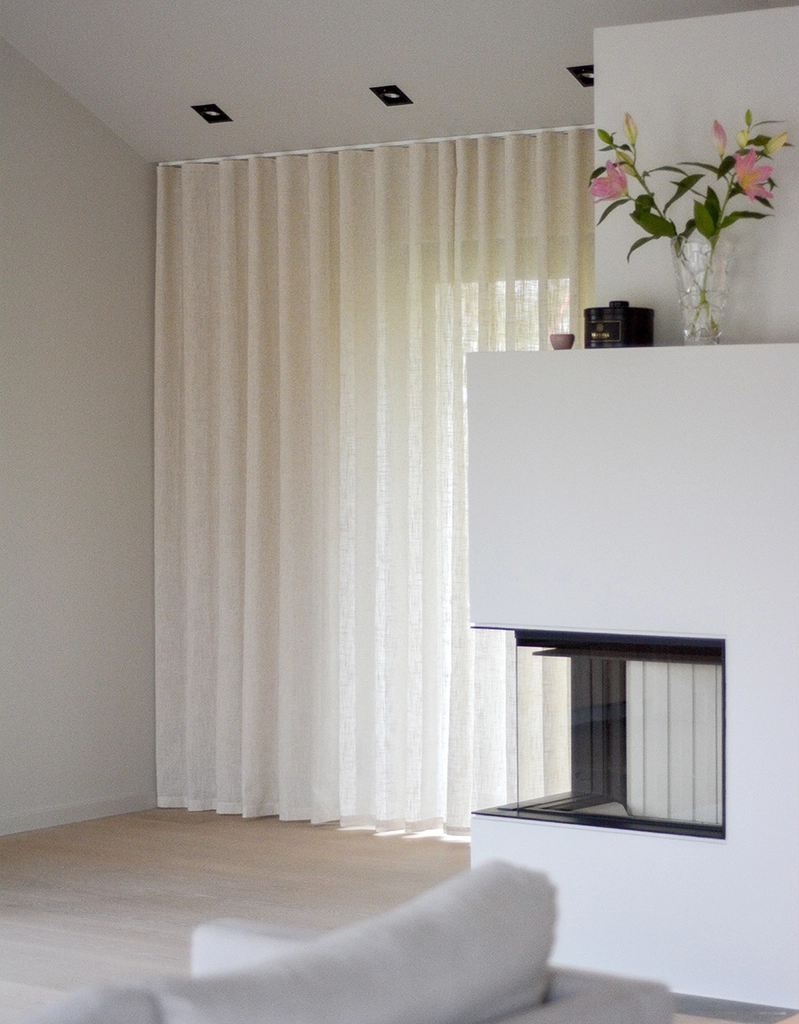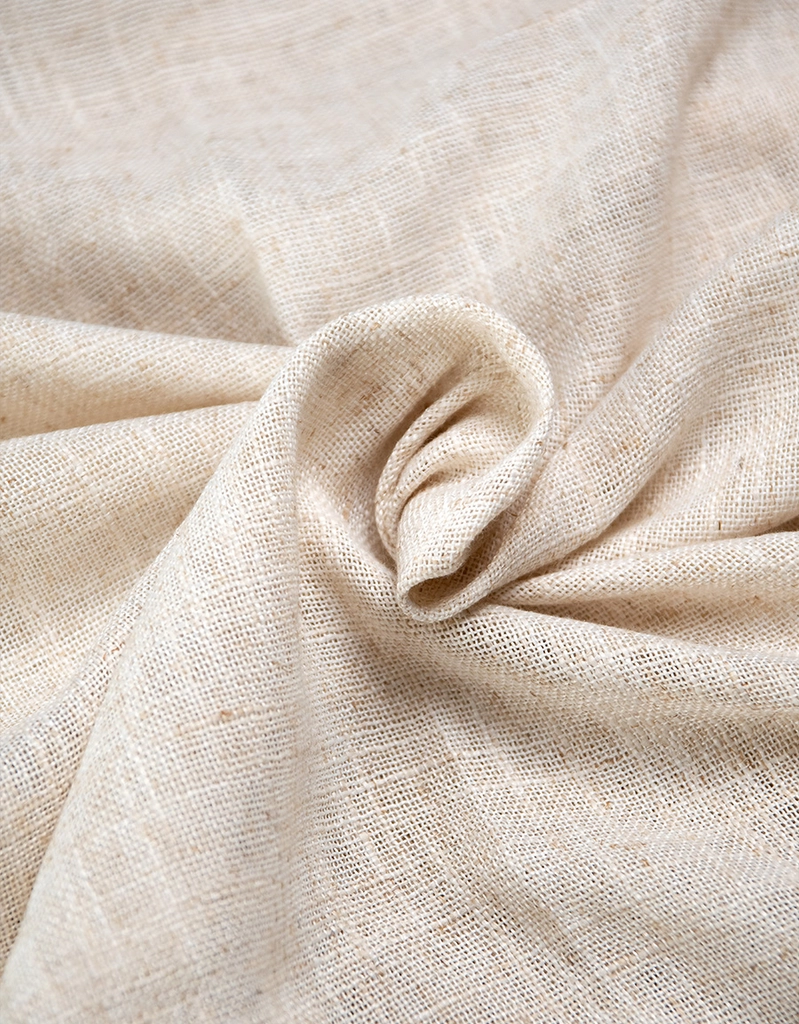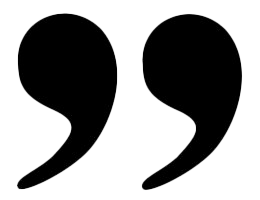 The linen feel remains trendy and characterizes several of our new curtain fabrics. Curtains with a linen feel provide an exclusive yet natural sensation that suits all types of homes.
Flora

Capture Attention with Patterns
The fine structural pattern of Flora truly captures the eye and, just like the name suggests, resembles a beautiful floral design. This delicate curtain is adorned with small, inward knots that provide an intriguing expression without being too prominent. A sheer curtain is a perfect choice when you want privacy without sacrificing natural light, and Flora's beautiful structure makes the curtain create a more lively expression than curtains with a flat fabric. Flora can also be combined with thicker curtains to create expressive combinations that elevate your home and add a sense of luxury and elegance.
132×250 cm
268×280 cm
Made-to-measure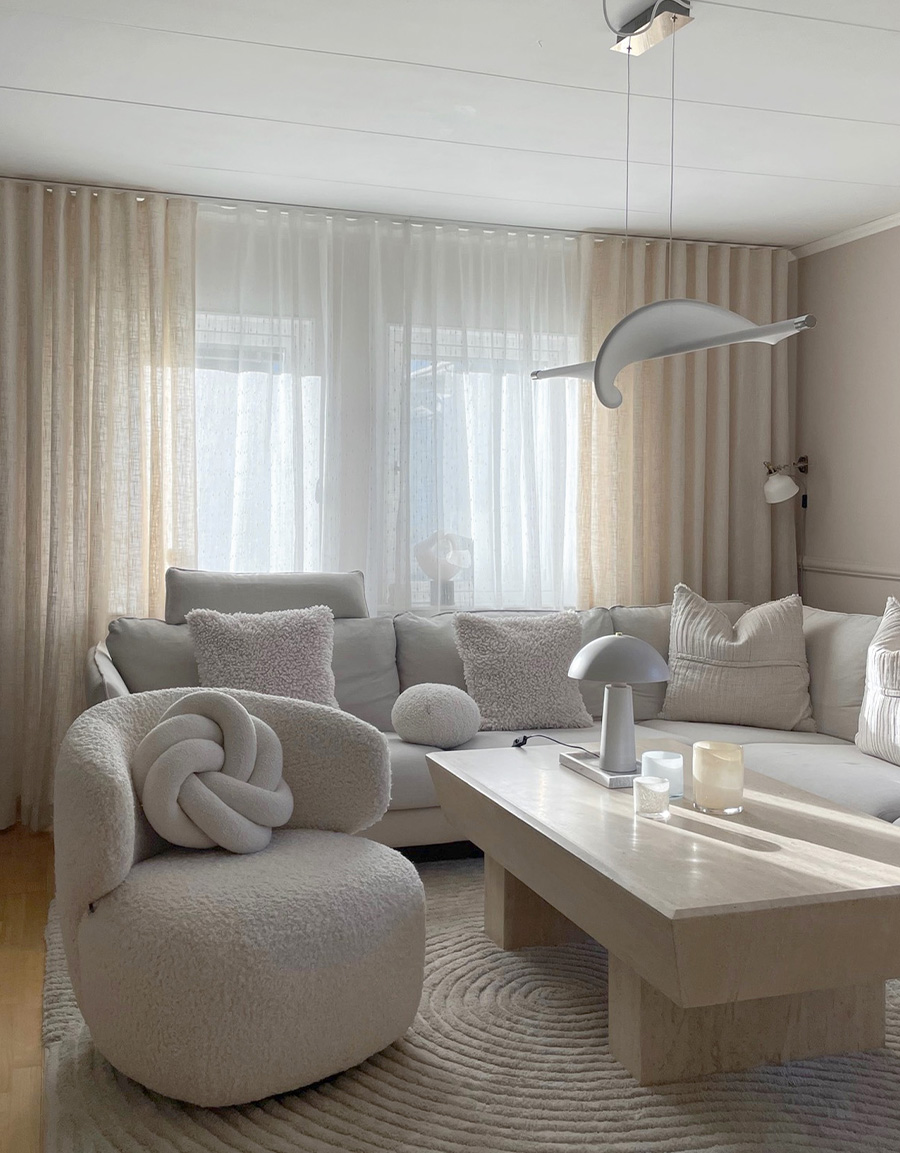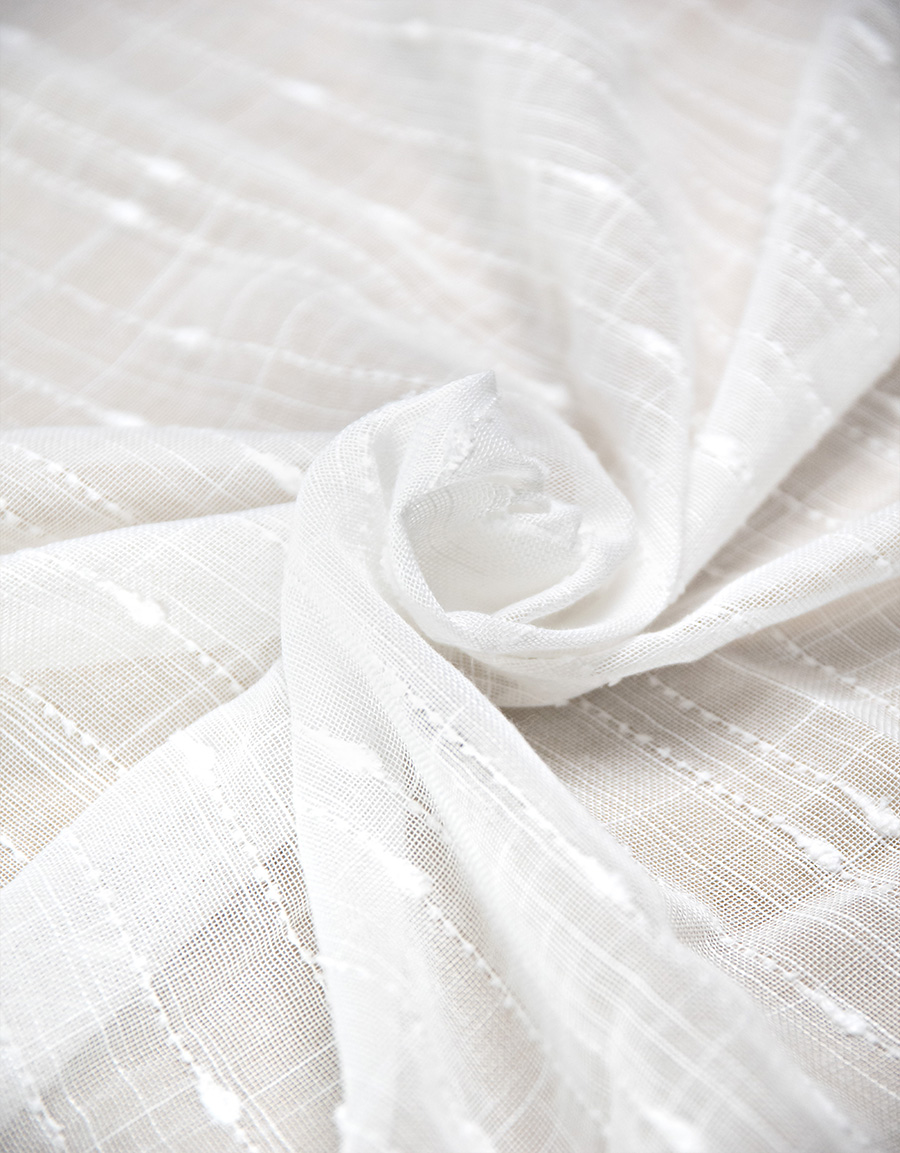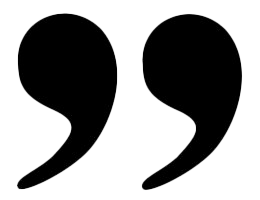 Distinctive patterns can be stylish and are on-trend even into the next year, but they can also feel too daring to invest in when it comes to prominent interior details like curtains. Therefore, in this collection, we have focused on woven, more discreet patterns that create intriguing effects without taking over.
Minna
Trend Meets Tradition
Checkered is a versatile pattern to invest in, and the beautifully punched-out checkered pattern of Minna feels both trendy and minimalist. Minna is an exciting addition to Hasta's sheer curtain fabrics, and depending on the interior details it is combined with and the environments Minna gets to inhabit, it becomes a very flexible curtain to style with. In the rustic kitchen, Minna enhances the rustic, cozy feeling and combines beautifully with furniture with an older charm. In a minimalist home with a Scandinavian feel, Minna becomes a natural part of the decor while still being a stylish alternative when a completely smooth curtain feels too expressionless.
132×250 cm
268×280 cm
Made-to-measure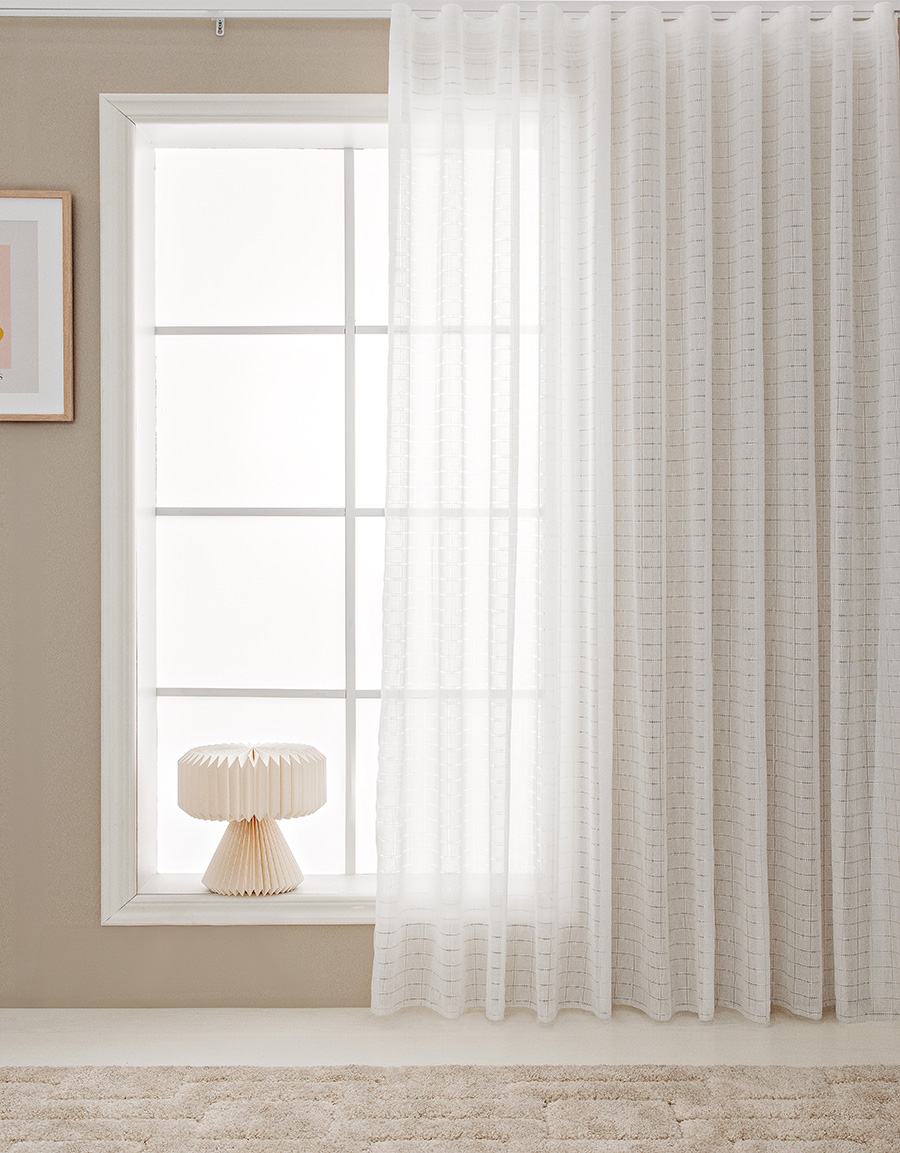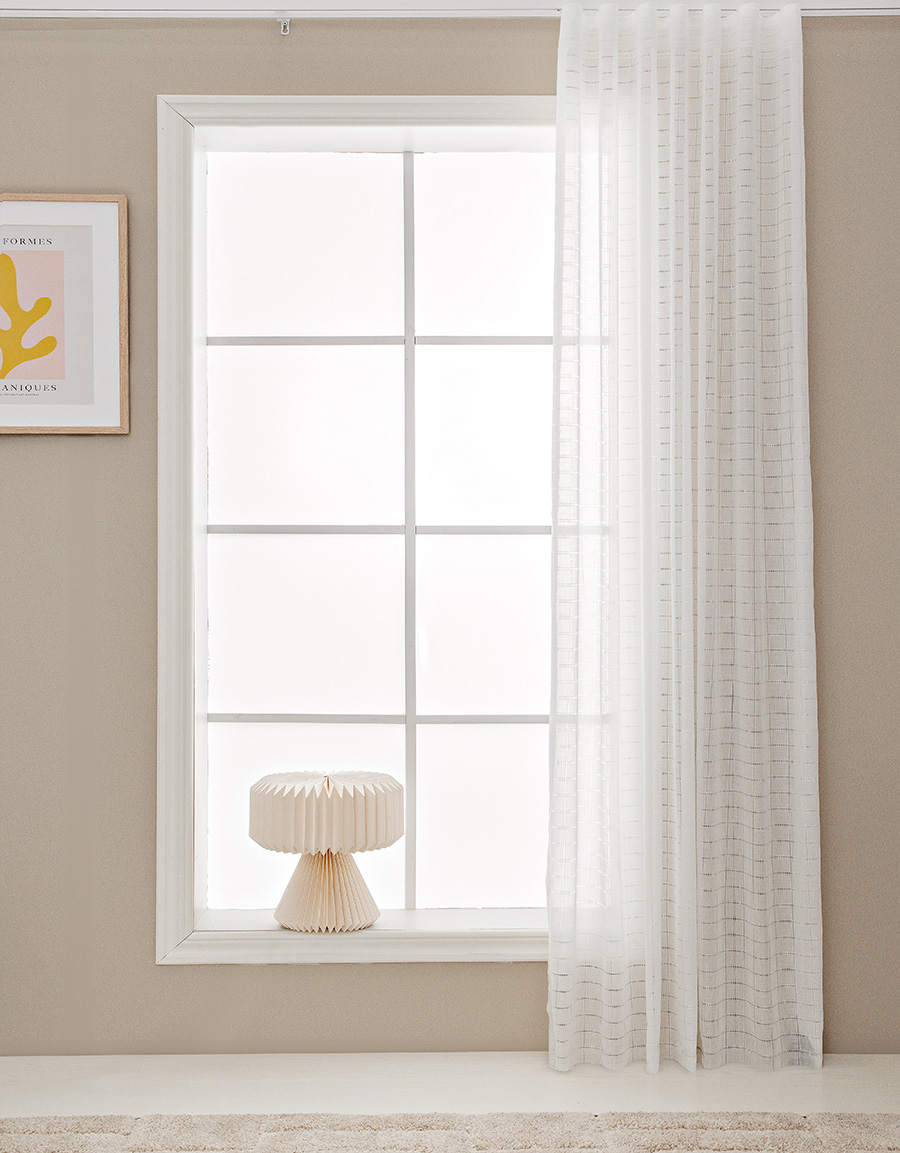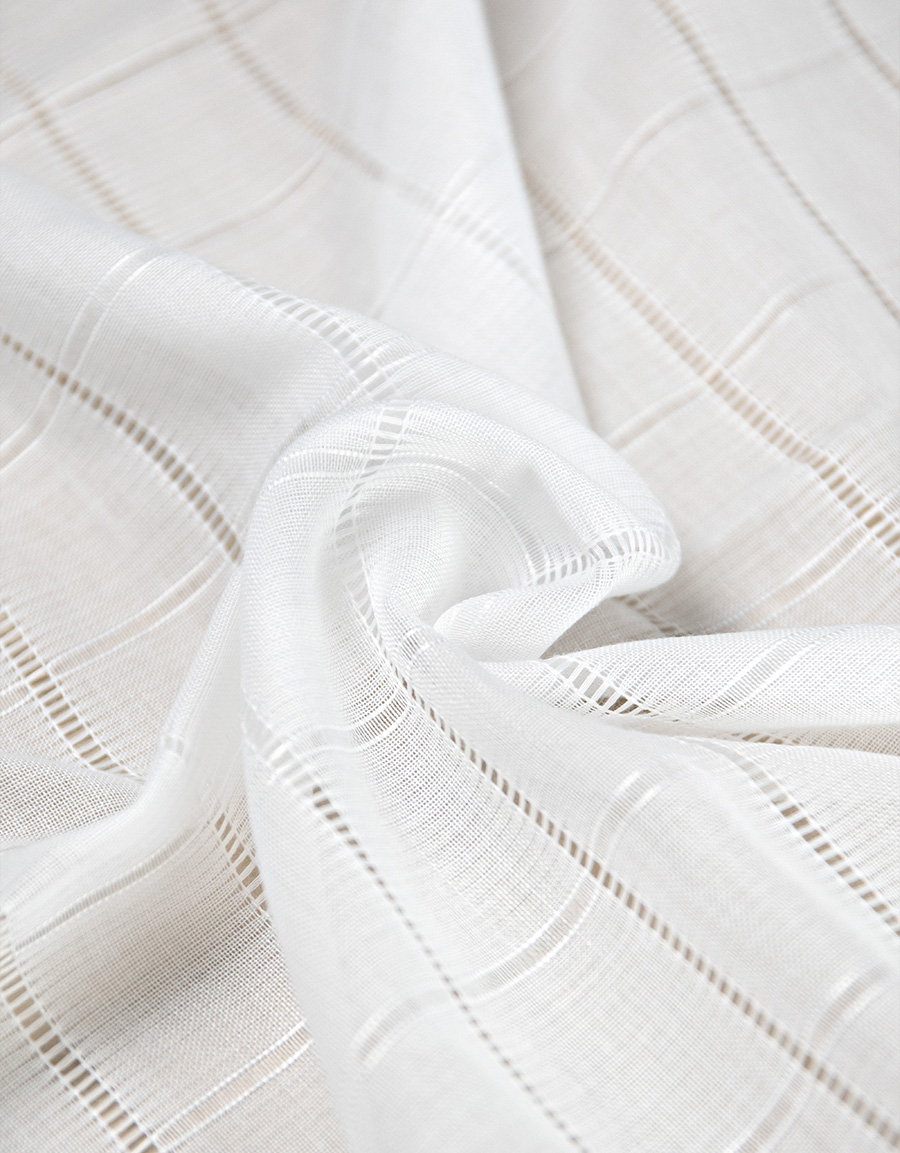 Flexible Curtain Setup with Combo Bands
All Hasta curtains come with combo bands, which serve as a pleat band, gathering band, tab top band, and wave band all in one, enabling several stylish curtain setups. Hang the curtains with gathering hooks in a trendy wave formation, with traditional hooks for beautiful French pleats, or directly on your curtain rod. In our comprehensive curtain guide, you can read more about how to hang and style your curtains.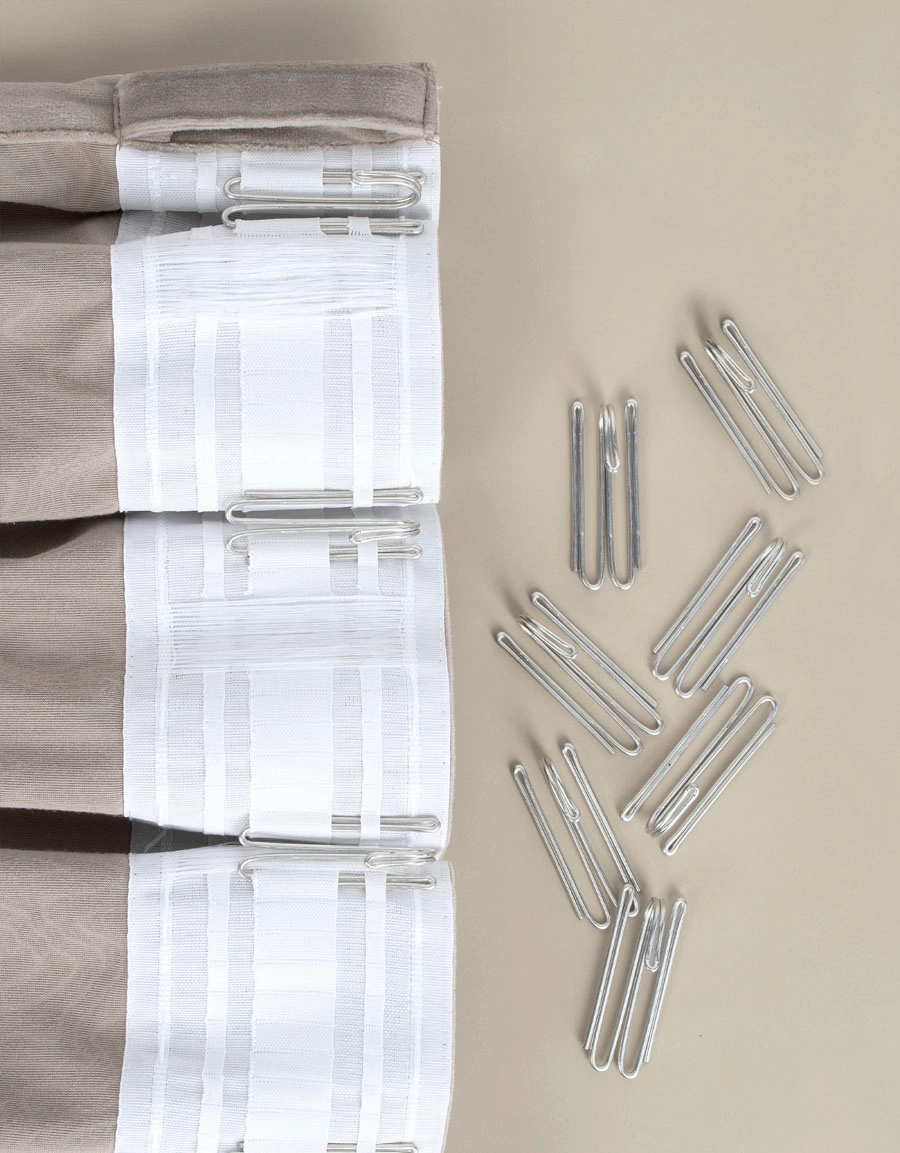 Shoppa produkterna