At Hasta Home, we want to step by step find ways to work more sustainably, both socially and in production. We therefore work with various initiatives that spread joy at work and bring butterflies to the stomach.
The "Little Group" – Social group work that spreads joy for everyone
Ever since the company was in its early days, the "Little Group", a group of happy employees with disabilities, has been part of the company. The small group helps to the best of their ability and spread many hugs, laughter and joy in our organization. Social work that benefits everyone! By 2015, Jaana and Ove had been at Hasta for 25 years, which of course was celebrated with cake and a party!
Ove & Jaana when they started at the company in 1990
25th anniversary celebrated in 2015 with dinner and diploma for long and faithful service.
A productive cycle to reduce waste and provide more job opportunities
We work with the organization Refo, which makes new products of recycled material. Together with Refo, we have started a cycle to reduce waste and create new work opportunities.
The cycle begins by collecting, sorting and saving waste from the production of curtains, blinds and curtain accessories. The material is then given to Refo who designs and manufacture new products. Due to the continuous collecting of waste material, the cycle gets a continuous flow of material. This gives Refo new opportunities for a larger and more profitable business.
At present, bags, necessaries and storage bags are manufactured using Hasta's materials. The first products are expected to be ready for sale in autumn 2015.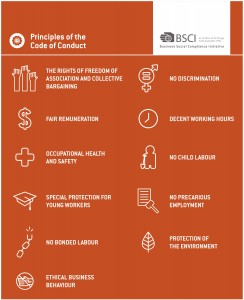 BCSI-certified production for good working conditions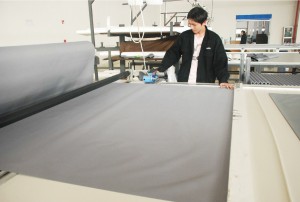 At the factory in China they work towards a safe workplace with good working conditions, where our employees are enjoying themselves. We have therefore obtained BCSI certification (Business Social Compliance Initiative). This certification certifies good conditions of union law, fair wage distribution, health and safety, protection of young workers, no forced labor, ethical entrepreneurship, no discrimination, reasonable working hours, no child labor, safe employment and environmental protection (more information on BSCI's homepage).
ISO 9001 certified production
Out factory is ISO 9001 certified, which is an international standard for quality management. It checks that the factory works professionally to ensure the quality of the organization. Läs mer om ISO 9001 here.